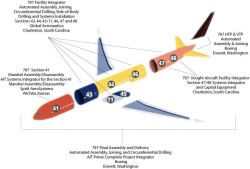 The Boeing 787 Dreamliner was the first commercial jet to be made of an advanced composite material – a combination of graphite and epoxy resin. The challenge this presented allowed AIT to capitalize on our extensive experience with composite materials and work on many different 787 integration projects.
With this new material came many different innovative solutions in turnkey factory integration, assembly, and product development to achieve unprecedented levels of performance.
AIT was in a unique position as the only supplier to manage the integration of all 787 Dreamliner subassemblies.
On 7-8-7 (July 8, 2007) the first 787 was built, painted, and viewed by 15,000 guests. AIT tools helped build some of the individual sections and also assisted with the final assembly of the 787 at Boeing's huge plant in Everett, WA.